I have been MIA on the nails front lately. I blame the move. There really is no reason to get my nails all gussied up just to have boxes and furniture rip them apart (which is what happened more than once).
But, finally, we are
somewhat
settled in the new place, I took the time to make my nails pretty for the week...and just about killed Mr S in the process (smaller place = no designated place to do my nails where I don't irritate his asthma).
I give you Julep's Charlotte and Joelle.
Nothing fancy, but very sparkly. Joelle is a silver and holographic glitter in a clear base, and she really gives off the shine in the right sunlight (which we've had plenty of here in SoCal).
Going into the weekend and St Patrick's Day on Monday, I feel the need to green-ify my nails. I'm still working out the details on where to do this so I don't kill Mr S. But I do plan to have green nails for Monday!
Did you do anything special with your nails this week? Come share with the rest of us: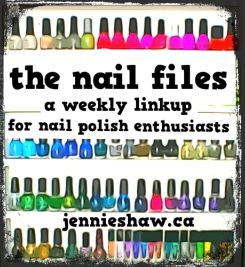 Happy Friday, Y'all!!