Okay....I know it's been about four weeks since Halloween. But I did a really great mani and I'm finally having the time to blog about it! So just bear with me and enjoy the cuteness that was!
Color used: China Glaze "Riveting" (part of their Hunger Games collection last year) and Maybelline "Onyx Rush".
I didn't know what to do with the thumb of my left hand, so I tried a "plaid" look that just ended up looking like a blank tick-tack-toe board. But I was okay with it.
Here's both:
The black French Tips were an after thought that worked in my favor! :)
Anyway to those who also link up: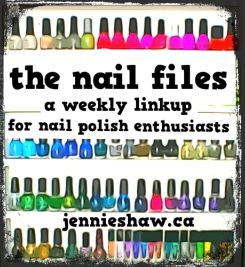 I would like to apologize for my lack of postings lately. I've been a little consumed with work and school. But I've implemented schedules in my life this week to help keep me on track for what needs to get done (cleaning, posting on time, school work) in my down time. So here's hoping it's working for the betterment of my life!
Happy Friday, dolls!!