Once again, I'm finally putting my Pinterest "Nails" board to good use!! Here is this week's
inspiration
:
I put my own twist on it, thanks to another pin with navy and silver colors that inspired me this week in my color choice.
I really love how this turned out. It looks a lot better than I thought it would - note to self: never try to determiner what the finished product will look like when the in-progress is a mess and a half!
Here are the colors I used:
Pure Ice - Superstar, Julep - Missy, and Finger Paints - Artist's Sapphire
As always, I'm linking up to show off my "handy" work! :)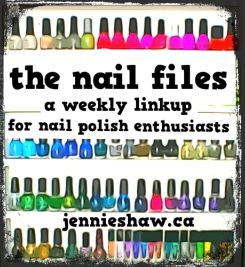 Come show off your mani/pedi with the rest of us.
And - HAPPY FRIDAY!!!!