This past weekend I went shopping in Palm Desert with one of my dear friends. We went to Ulta.
That was a mistake!! However, I was surprisingly good, considering all the lovely things I really wanted to spend my money on!
I did buy this beauty combo, though:
Here's the
Link
, cause according to the ULTA website, it's an online only thing. It was the only one in the store, so maybe someone returned it (though it didn't look opened) or they got one for display purposes. Either way...I snatched it up!
And here's what I did with it:
One coat of Kensington High Street is on all nails but my ring finger. Mayfair is the base on the ring finger nail. And Carnival is the glitter. It's a clear base with large gold and pink flakes and smaller holographic specks. And it is a pain in the bootay to apply. I kind of had to manipulate the larger flakes to get it to look remotely close to what I thought it should look like. And then a clear top coat so "seal" it in...some. I still managed to smudge it a bit, but it's held in place so far.
My only complaint is the glitter polish. But that will take some working with to get used to manipulating the flakes the way I want them. Other than that, I love all these colors and the coverage. The one coat of Kensington High Street is a little splotchy in the right light, so maybe two coats next time. But I am really enjoying this look and will probably do it again.
As always, I've linked up: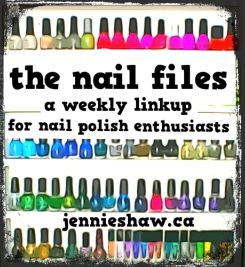 Come show off your polished looks with the rest of us!
Happy Friday!!