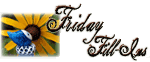 Well, it's been a while since I've done one of these, so here we go:
1. Why does it
have to rain on my weekend home?
2.
The effort you put into the job
is equal
to the accomplishment felt at the end
.
3. My favorite breakfast includes
COFFEE!!!
4.
Private

by James Patterson
was the last book I read
this week
.
5. I am SO glad
to be home!!
6.
Food, or a massage,
would make me feel better right now.
7. And as for the weekend, tonight I'm looking forward to
sleeping in my own bed
, tomorrow my plans include
a manicure and relaxing
and Sunday, I want to
go to church and get the laundry done
!