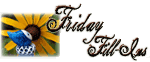 1. We are on this earth because
we do have a purpose...even if we don't know what it is. Besides, I hear you can't breathe to well in space w/out an oxygen tank.
2.
Learn to
experience
all life has to offer
.
3. One of the hardest things for me to learn
when to say no
.
4.
I love being
connected.
5. I remember
a lot of things...most of which make me smile
.
6.
Mr. S
is one of the best parts of my life.
7. And as for the weekend, tonight I'm looking forward to
relaxing
, tomorrow my plans include
organizing the office and school work
and Sunday, I want to
go to church, do homework, and sleep all day
!