One again, I'm linking up with the gals for: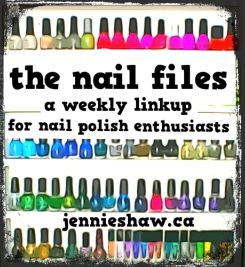 This past week I kept my nails fairly simple:
I don't remember the names, but both are Julep colors. (I think the black glitter is Beatrix from a previous Bombshell box...the white is one I've had for about a year). The glitter is a clear base with black, gold, and iridescent flecks (that are hard to see in these pictures). This was my weekend through Monday mani.
Right now I'm sporting one of my Christmas colors:
Essie's Mochachino (forgive the chipped tips...this mani has been on since Wednesday morning). The picture doesn't do it full justice as there's a hint of shimmer to this color that really sets it off nicely. It may be one of my new favorites (I know, I say that a lot).
I'm feeling a little adventurous for my next mani, so hopefully I'll have some cute nail art for you next week.
Until then...happy Friday, lovelies!