As you may (or may not) have seen
here
, I got some lovely polishes for Christmas. I've tried out two of the three, but had yet to try Essie's On A Silver Platter.
I was intending to do it over another color since it has a clear base, but hadn't decided which one yet. Yesterday morning, on a whim, I tried a layer on my thumb just to see what it looked like without a base color.
Uh...AMAZING!!
I ended up just going for it with out a base color!
This is angled so you can see the gold micro-glitter coverage at certain angles/light.
This gives a better idea of the clear base, but the holographic/iridescence of some of the other glitters in there. Even the blue flakes have a bit of a holographic shine to them in certain light.
I did two coats to try to "even out" the blue glitter. But I really didn't need to.
I think I have a navy blue that this will be AMAZE-BALLS over, so stay tuned for that test run!
And, as always, I'm linking up: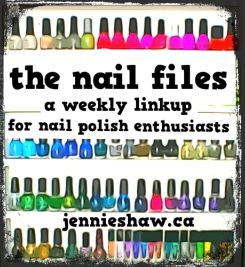 Head over and check out some of the other great manicures and show some love! :)
Happy Friday!