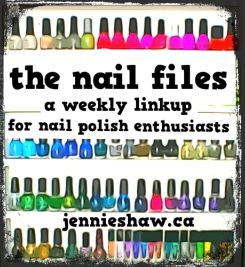 I did these Tuesday, New Years Eve, while I binge-watched Downton Abbey. Aside from running the dishwasher and cooking dinner, doing my nails was the only thing I did all day while sitting on the couch with one of my favorite British shows. And, since I was having a lazy day, I kept it simple:
Julep's Claire under Sinful Color's Ice Dream.
Before settling on Claire, I actually had four different blues on four fingers trying to decide the right shade to go under Ice Dream (from my Christmas haul). I think Claire was a perfect choice. Ice Dream went on very well. It's a clear polish with tiny silver glitter and larger blue flakes. The picture doesn't do the silver justice, but you can kind of see it there. And it has nice coverage, for a glitter polish.
Now, come join the rest of nail polish junkies and show off your manicure from the week!
Happy Friday, dolls!