It's that time of the week again!!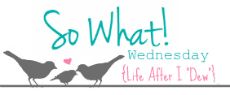 So What If:
* this is the only post I did last week. And it's looking to be the only post this week at the rate I'm going.
* I am just now getting around to buying some wedding pictures from our photographer. I have the rights to them, I can go anywhere for them. But I kind of feel obligated to buy some stuff from him since he gave us such a stellar deal on the photography itself. And his prices are pretty reasonable, compared to others!
* I officially started the 30 day/300 ab challenge Monday (also hosted by Shannon), but I've only done about half the work out over the past two days. They weren't kidding...the first few days are killer on the abs!! I'm taking it slow to work my EXTREMELY out of shape body into it...doing about 3 or 4 of the exercises a day. My goal is to start doing all 11 next week. Hopefully by then my abs will have "adjusted" to the
trauma
stretching/moving/crunching.
* aside from the ab work outs, I'm doing nothing to promote weight loss! But I do have a reason behind that: Dr appointment tomorrow to find out why my thyroid levels are freaking out on me lately. Once that's taken care of, back to the treadmill!
Well, that's all I've got for today. Seriously, I thought there was more, but my brain just isn't working properly yet this morning.
Later...