Today, again, I'm linking up with
Shannon
for...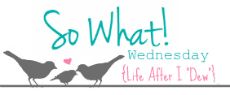 So What If...
* once again, I should be doing school work instead of "playing".
* once again, I'm a day late getting my assignments in.
* I despise margarita salt...it's what's in the glass that counts, right?
* I look like a hot mess unloading my rental and hauling my crap to my room each night this week. No really...two suitcases of varying sizes, a backpack, my camera bag (
because I thought I might actually get some pictures this week...HA!
), my purse, a bag of snacks, and my info bag (black satchel that carries all my materials for visits). One Hot Mess coming right up!!
* all I really want to do is crawl in that bed on the other side of this hotel room and sleep till I wake up.
* if my nails aren't exactly a professional color right now (think pale minty-greenish-glittery). They are, however, not chipped since I put the color on Monday morning (that is an accomplishment for me).
* if I really am loving the new iPad Mr S bestowed upon me last week as an early birthday gift (my birthday is in May) despite my protesting that I didn't need one because I still had my old one (first gen). I got a great new cover for it and an anti-glare screen protector. LOVIN' IT!!
* I'm planning to wear my Easter dress from EONS ago on Sunday. No, really, I'm talking pre-move to Cali is when this dress dates back to (S, M, E, & B...think days of Brawny & Juan). But it still fits in all the right places, isn't faded (because I don't do the dress thing very often...if ever), and, most importantly, it's COMFY!
And that's all I've got this week.
Hugs...