I'm linking up to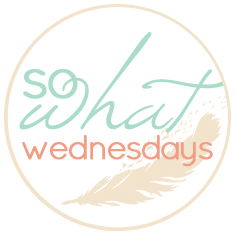 So What If:
* I'm pretty sure the baby fever I didn't have last month is back in full force. Or it could just be that time of the month bringing it on.
* I am lacking any desire to do anything domesticated this week.
* I am also lacking the desire to finish the three crochet projects I have going on right now.
* Motivation has left Ring Manor, in general. Except for Mr S. He seems to have all the motivation in the world right now.
* I'm ready for payday. I'm not broke. I just don't have a lot of money to spend like crazy right now. But when payday comes, I'll have more. And I'll be getting my hair done. That excites me more than anything else right now. It's time for a change!
* I completely forgot about my ULTA delivery coming today until just now. That just made my day so much better!
* The only reason I bought a particular nail polish last week was for the name. OPI put out The Bond Girls Collection and there is one called Pussy Galore. And it's pink!
What are you saying "So What" to this week? Come join the fun!